Practical operation tells you the difference between 365nm and 395nm of purple light beads
---
I believe that many flashlight users are familiar with the purple light flashlight. The functions of 365nm and 395nm lamp beads are also different.
simply put:
The light emitted by 365nm basically does not contain purple, which does not affect the judgment. The purple at 395nm is very strong, which sometimes affects judgment.
The fluorescence of 365nm is generally much stronger than that of 395nm; the fluorescence effect of 395nm is weaker than that of 365nm.
365nm can emit some fluorescence that cannot be illuminated by 395nm, such as the fluorescence on the back of Renminbi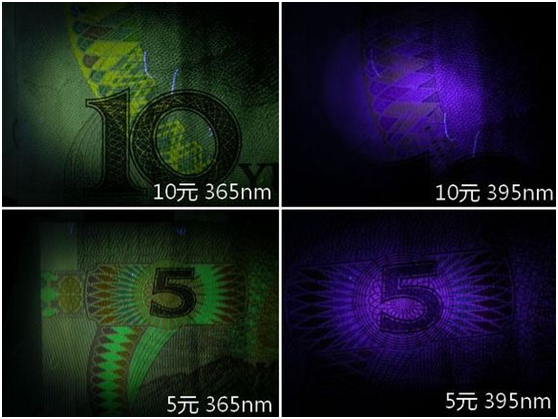 The left side of the picture below is the color of a 365nm purple light bead shining on a non-fluorescent white object, and the right side is the effect of a 395nm purple light flashlight.
Info.Recommendation